ITALIAN PRESIDENT CONFERS KNIGHTHOOD HONOURS ON BRUNO M. SUPPA AND MARIO J. CALLA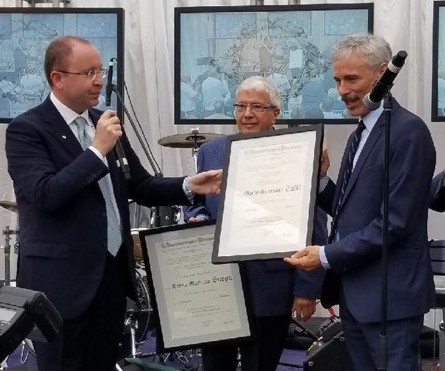 Consul General Giovanni Pastorelli (left), presents awards to Bruno M. Suppa and Mario J. Calla.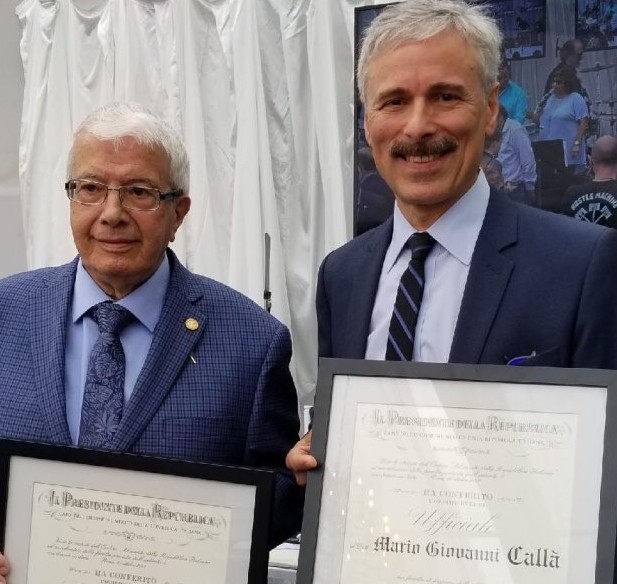 Bruno M. Suppa, COSTI President and Mario J. Calla, Executive Director of COSTI.
On Sunday, June 3, 2018, Italian President Sergio Mattarella conferred knighthood honours on COSTI's President Bruno M. Suppa and COSTI's Executive Director Mario J. Calla. The ceremony was presided by Italian Consul General Giovanni Pastorelli. Bruno Suppa was given the title of Commander and Mario Calla, the title of Knight Officer.
"Having come to Canada as a young boy from a small village in Italy, I am honoured and humbled to receive this award from President Mattarella in recognition of my work with immigrant communities," commented Mario Calla at the awards ceremony.
The ceremony was held on Italian National Day at Casa Loma, an event held annually to celebrate Italian Heritage Month in Canada. The event is the largest outside of Italy, attended each year by more than 4,000 people. The event was co-organized by the Consulate General of Italy, Liberty Entertainment Group, the Istituto Italiano di Cultura [IIC], the Italian Trade Commission [ICE], the Italian National Tourist Board [ENIT], the Canadian Italian Business and Professional Association [CIBPA], ComItEs, the Italian Chamber of Commerce of Ontario [ICCO], the Italian Contemporary Film Festival [ICFF], IC Savings and Villa Charities Inc.