REMEMBERING BRUNO M. SUPPA
On behalf of the Board of Directors of COSTI, it is with great sadness that we announce the passing of COSTI's Past-President, Bruno M. Suppa on Tuesday, February 18, 2020.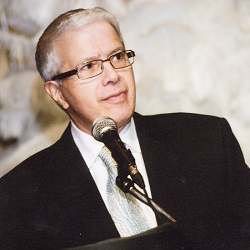 Bruno began his association with COSTI as a volunteer in the mid 1960's and joined COSTI's Board of Directors in 1968. He became President of the organization in 1993. Over the years, he led the effort to broaden the organization's focus from an Italian immigrant client base to a multicultural one, leading to COSTI becoming one of Canada's largest immigrant service organizations.
Bruno left Italy in 1948 at the age of fourteen. He went on to earn a Masters Degree in Philosophy in Education from the University of Toronto. He became a Trustee and then chair of the Metropolitan Separate School Board, and subsequently Judge of the Immigration Appeal Board and Judge of the Court of Canadian Citizenship.
COSTI's Head Office was renamed the Bruno M. Suppa Corporate Office, in recognition of the extraordinary leadership Bruno provided to COSTI for more than half a century. Fellow members of the Board, staff, volunteers and friends of COSTI, will miss Bruno's leadership, but most of all, will miss his generous spirit, kindness and compassion he demonstrated to everyone who was fortunate enough to meet him.
As an expression of sympathy, the family has requested that memorial donations be made in Bruno M. Suppa's name, to COSTI. If you would like to make a memorial donation online, simply click on the link https://www.canadahelps.org/en/dn/t/44484
If you would like to make a donation directly to COSTI, kindly download and complete the attached form.
We encourage you to take a moment to read more about Bruno's work with COSTI and the numerous organizations and causes that Bruno dedicated his life to
Bruno left his hometown of Vallelonga, in the Province of Vibo Valentia, Calabria, at fourteen years of age, together with his mother and came to Canada to join his father in 1948. As a young man, Bruno remembered the lack of services for immigrants and how he hired a nurse in his neighbourhood to teach him English at a cost of .50 cents per lesson. Working after school cleaning floors at $.50 an hour, he earned enough money to take the classes. He then went on to teach English to other newcomers on a volunteer basis, so that they would not have to struggle, as he did to learn English.
A good education was important to Bruno and he worked hard at self-improvement. While maintaining a full-time job at the Ontario Ministry of Labour and later at the Toronto Board of Education, he attended evening classes and completed degrees in Sociology at York University and a Masters Degree in Philosophy in Education at the University of Toronto.
Bruno sought positions throughout his professional life that would allow him to support the settlement and advancement of newcomers. In 1972 Bruno successfully ran for election as a Trustee in Canada's largest school board, the Metropolitan Separate School Board (now known as the Toronto Catholic District School Board), where he served for the next eight years including two as its Chair. For ten years, from 1980 to 1990, he served as a Judge of the Immigration Appeal Board, as well as a Judge of the Court of Canadian Citizenship from 1977 to 1980 where he bestowed Canadian citizenship to over 7,000 newcomers.
The demands of his work did not hold Bruno back from contributing in a volunteer capacity to the advancement of the Italian community. Bruno was co-founder and President of the National Congress of Italian Canadians and in the late 60s co-founded the Federation of Italian-Canadian Associations and Clubs. At that time he also became involved with COSTI, which was helping Italian immigrants to learn English, train for specific occupations and find employment. COSTI transformed from an Italian agency to a multicultural agency and during Bruno's tenure as President became one of Canada's largest immigrant service organizations, annually serving close to 40,000 immigrants. It was for this work that at a ceremony at Toronto's Casa Loma on June 3, 2018, Italian Consul General Giuseppe Pastorelli presented Bruno M. Suppa with the title of Commendatore on behalf of Italian President Sergio Mattarella. The award was bestowed on Bruno for his work as President of COSTI, where he volunteered his talents for over fifty years, and where his contribution has made COSTI a model for successfully settling immigrants and refugees.
This most recent award by the Italian President is the culmination of numerous awards presented to Bruno for a lifelong commitment to making his community a better place for everyone "Bruno has been the longest serving and most active volunteer and board member, and I believe the single individual most responsible for the COSTI success story," comments Dr. Michael Yealland, Member of the COSTI Board and Treasurer. "His unwavering belief in the innate dignity of all human beings kept him a humble man and his feet solidly on the ground, even after achieving lofty positions as Chair of Canada's largest school board, and Judge of the Immigration Appeal Board."
Current with his volunteer work, Bruno also put his energy as a founding member of the Italian Canadian Benevolent corporation, Villa Charities and as a Special Advisor to the Carmelite Missionary Sisters to name a few. One of his lasting legacies was his forty year association with the Precious Blood Fathers and Brothers Mission Projects for whom he raised thousands of dollars to support schools and water supply in Tanzania. Brother Anthony Canterucci, founder of the Missions Projects, worked with Bruno since the beginning of this initiative."Bruno held my hand in difficult times on many occasions. When he promises something, he comes through, you can depend on that. It comes straight from the heart and there are no strings attached."
Readers of La Lumera will remember Bruno as one of the founders of the magazine and its editor for many years. His devotion to the Vallelonghese community in Toronto led him to volunteer as the founding President of Club Vallelonga in 1968, and to contribute to its development for over forty-five years. Bruno's involvement with the Club Vallelonga provided him with the opportunity to stay connected to his paesani while honouring his Vallelonghese heritage.
Over the years, a number of institutions and organizations have recognized Bruno for his commitment and contributions to the community. Bruno was the first Italian Canadian to receive the Outstanding Achievement Award by the Government of Ontario. In addition, in recognition for his contribution to Catholic education, he was presented with the Award of Merit from the Toronto Catholic District School Board. The National Congress of Italians presented Bruno with the Ordine Al Merito in 1996 for his work with the Italian Canadian community and Canadian society. That same year, Bruno was honoured to receive the Cross Pro Ecclesia Et Pontifice from His Holiness, John Paul II. Bruno's devotion and commitment to newcomers has been recognized in Canada and abroad. In 2013, he was named Cavaliere by Italian President Giorgio Napolitano and in 2018.
While grateful for the acknowledgement and recognition over the years, Bruno often cited his three daughters as his greatest accomplishment in life. "To be recognized by the Pope and political leaders in my adopted home and my home country, is most humbling, but it is the personal and professional achievements of my daughters that I am most proud of. Their commitment to the community and the values that they continue to uphold and now share with my grandchildren, are what matters most to me and were extremely valued by their mother Matilde."
Bruno's experience as an Italian immigrant drove his passion to help others. He is an example of how the hopes and dreams of newcomers to Canada can be fulfilled. "Throughout my life, I have faced many obstacles and hope that my hard work and determination is an example for newcomers arriving to Canada today. Never give up, dream big and you will succeed," is Bruno's advice to newcomers. "I could never have imagined when I first arrived as a young boy to Canada, that one day I would be having lunch with Prime Minister Pierre Trudeau! Canada is a land of opportunity and newcomers play a key role in its success. Work hard, give back to the community, make a difference and your dreams will come true."
Please take a moment to view some of the special moments we have shared together with Bruno.